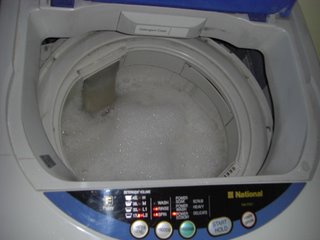 It may not seem like a big deal. But the washing machine is now connected and I can wash my clothes and the tons of other dusty things around the apartment.
The washing machine service guy came, looked over the machine, brought the new pipes I needed--after a week of waiting for them to be delivered, that is. Then he connected it all for me, too. And that was good, because even though I can probably do that, what took him twenty minutes would take me an hour and a half.
I do a load of wash now just about every day because it's so nice knowing I can clean something.
Now I just need a drying rack for those three sheets I'm currently washing...