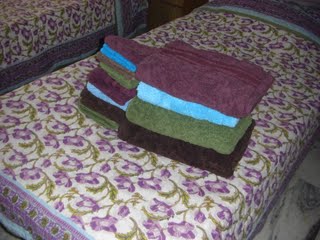 An awesome thing happened this morning.
Last Saturday I went shopping for some new towels for the guestroom. I wanted a full set of purple towels--bath towel, hand towel and wash clothe. But the hand towel wasn't available in that color.
I asked if they would have more in stock at a later time.
I was told no.
I asked if they would be ordering any more purple colored hand towels (never accept the first 'no').
Why yes, they would. And if I gave my address, it would be couriered to my house on Tuesday.
Really? Awesome.
And yes! My purple hand towel showed up this morning! What great service!