I was desperate yesterday evening for a clean house.
I went to the lady downstairs and told her I had guests with a small child coming and my floors were not clean.
She said, "Come in and have
chai
."
I went in and talked with her for a while and had some
chai
. She told me she'd send her house helper up the next day to see about the floors.
This afternoon a lady turned up at the door. She made a mopping motion and told me to let her in. I said that not only did I need her to clean the floors today, but I needed someone every day.
"What do you want me to do?"
"Clean the floors. Dust. Clean every thing."
"How much will you give me?"
"1300."
She didn't understand the number I said.
So I counted it out for her.
She didn't
understand
that.
So I wrote it out for her.
She couldn't read.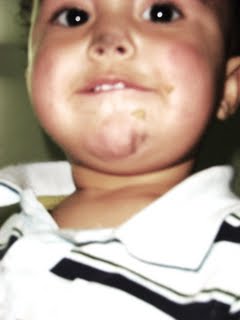 Finally she said, "I'll do the floors for 500 and the rest for 200."
Being generous, I asked, "800?"
"No. 700."
"You mean for a month or today?"
"For the month."
Sold. She'd just subtracted from my original offer and given me an unheard of deal for a foreigner. I'll take it. And count it as a gift from the God who knows how little is in my wallet.
My small visitor still managed to turn his nose black on the curtains, though.
Guess I need the number for a dry cleaners.