A fuse blew yesterday morning. I didn't notice it most of the day, but I did wonder why the refrigerator wasn't running. Then I realized none of the plugs along that wall were working.
Sigh.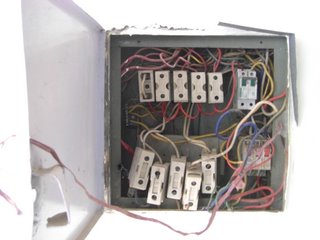 I'd been dreading having to find an electrician. Because I knew that's what I would have to do
find
him, somewhere out there in the bazaar.
My fuse box was in terrible shape. Dangerous shape. I wasn't going to mess with it myself.
In the bazaar, I told the man at the first place where they sold light bulbs that I needed an electrician. He said he'd send one over, where did I live?
I also asked him if I could buy a stabilizer in this bazaar. No, that's in a different, bigger bazaar he said. Then he added that if I needed one, he'd arrange that for me.
Really? Cool.
He sent out a guy on a scooter to find me a stabilizer and said it would be delivered within the hour when the electrician brought it.
I think that's marvelous service.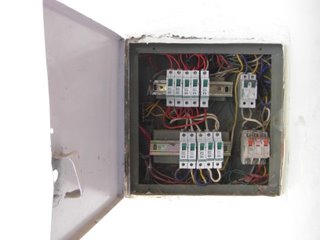 Later the electrician showed up and, yup, he had the stabilizer for me. I told him about the fuse and showed him my box. He was actually excited about it. He made it all look very nice and neat.
Much less danger. Next time a fuse blows, maybe I can handle it myself. But if not, the electrician gave me his card.