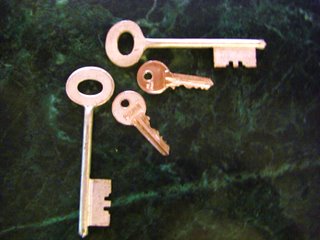 I needed some duplicate keys for my door. In case something happens, I get
locked out
again, or for visitors who come to stay for a few days.
There are several different locks on the main entrance of my apartment, keys to each of which are necessary to get in.
So I went to a locksmith. Locksmiths usually just have a stand somewhere out on the street near a market.
The first one I visited was set up near a public toilet--how do they stand that smell all day!--and he had hundreds of possibilities for key duplicates and even advertised "digitized" key duplication. But that machine was broken.
So he said.
It was an interesting process to watch. (But very difficult to stand next to that public toilet for twenty minutes.) He used his metal files and a very dangerous looking blade from which he removed the protective shield and I soon had duplicate keys for two of the locks. But he told me the last key was too difficult and it wasn't lining up right; he couldn't make it.
The next locksmith I visited told me the keys for the third lock were not difficult, but they were precise and it was a lot of work. He would make keys for me right then in ten minutes and I would have to try them out. If they didn't work, he said he would have to go and see the lock and work on them some more. He was very thorough in explaining the process to me. In Hindi, which I tried my best to follow.
The keys he made didn't work.
The next day I went back to the market to find him. His "location" is just a place on the sidewalk up against the wall where he spreads a mat and lays out his tools. The mat and a pile of keys were there, but the man and his tools were missing.
"Where's the locksmith?" I asked the toothless barber nearby.
"He's gone."
"Yes. Do you know when he'll be back?"
Shrug.
"Did he go to lunch?"
"He has taken his things and gone."
Okay then.
I went to the stationary store and returned twenty minutes later. The barber, a man getting a shave and one spectator all told me the locksmith was gone.
Right.
I went to a coffee shop, drank a blackberry smoothie and returned after another twenty minutes. The barber and two other men said there was no locksmith.
"But here," he pointed to a kid walking by, "Give your name and contact to this boy and he will tell the locksmith."
"For sure? He will?"
"Very sure."
I gave the kid my name and number on a ripped off piece of my receipt from the stationary store and went into the grocery store. I returned again in another fifteen minutes.
"You are here," said the barber's friend.
"Yes, and the locksmith is not."
"You have given your contact to the boy?" asked the barber.
"I did."
"Then," he waved his hand in the air and put his head to the side to say 'it is taken care of'.
"For sure?"
"Very sure," again with the hand and the head.
"Good. We will see."
I went home.
The key man did not call me the next day and I went back to look for him on his mat at the market. This time, there he sat. (No barbers or other loiterers in sight.)
"So, what happened?" asked the locksmith.
"The keys don't work."
"The keys don't work?"
"Nehi, ji."
"Do they work a little bit and go into the lock?"
"Nehi, ji."
"So they don't work?"
"Nehi, ji."
"Then I have to come to see the lock. Tomorrow I will come. This is your contact?" he pulled out the little piece of paper I'd given to the boy the day before.
"Yes. Do you have a mobile number?"
He gave me his number and said he would come the next day at 10am.
The next day at 12:30, the locksmith showed up.
"Here is the lock," he said looking at the door.
"Yes, ji," I handed him the keys that didn't work.
He oiled the lock, filed the keys for a few minutes then said he needed to take them somewhere else to work on them. He'd be back in an hour.
In four hours he returned.
"These keys are a lot work," he said. "They are imported."
On both the original key and the lock it clearly said: made in India. "They are difficult," I said.
This time he pulled out his file and worked for forty-five minutes or so. He had the keys
almost
working, but there was something not quite right about them.
"Look," he said, "They are almost right."
"I see."
"I need one other tool for this. I will have to go where they have this tool. I will take the keys and come back tomorrow. This is fine?"
Why not? What am I going to do with two keys that don't open anything? "Fine, ji. Tomorrow."
"Tomorrow."
"Tomorrow what time?"
"Early. 11 o'clock."
"Okay, very good."
Two days later, he came in the afternoon.
"Where is it?" he held out his hand.
Thinking he meant the duplicates, I said, "You have them."
"No, it is with you."
Oh, the original key. "One second."
He got to work filing and pounding with his hammer. For a very "precise" key, it seemed like a rough process.
An hour later both duplicates would open the door and the locksmith was feeling confident enough to lock himself out and try them.
Nope. He rang the doorbell and I let him back in.
More pounding.
And finally: working keys! He packed up his tools, sat on his tool box and told me to try them out. It takes a little bit of a special touch, but they do work.
So now I know that key duplicating is an eight day job.