It has come.
What a relief.
It took days to sort everything out. But now the pump is located and hooked up. The documents are in order with the water department. And, very importantly, an automatic switch has been has been installed on the pump to turn on when the direct line of water is running. This way the tank will fill up and I don't need to get up at 4am every day to make sure it does.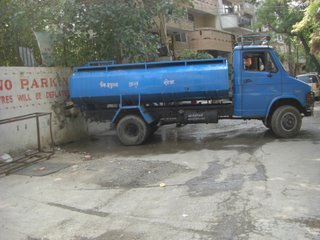 It was difficult to know I was frustrated with lack of water when every day this water truck comes two or three times to fill the community tank for the poorer people who have no running water in their homes. I should be more grateful.
And I am now. Very. Water is a beautiful thing. Coming from the taps: that's really magical.