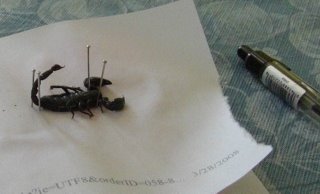 There was a scorpion in my room this morning.
I was picking up some clothes from the floor and it was underneath. Black and scary. Only that's not what I was thinking.
I thought: "The boys haven't been here in my room, what is that plastic bug doing on my floor?"
Then it moved. Yich.
So I trapped it under the heavy Lord of the Rings movie box until I had time to do something about it.
Later, we froze him and now he's securely pinned to some styrofoam.