My propane cylinders I use for the stove are empty.
I need a new "connection". Getting one is a tedious process, especially since government offices are involved. This morning I went out to get that process started.
The cycle rickshaw driver thought he could find a different gas office in a different neighborhood and we spent about forty minutes riding around looking for it, before he finally arrived at the original destination asked for. I felt bad for him, pedaling so long. But I also didn't because it was his own fault for trying to find a short cut and not take me where I wanted to go.
By the time we reached the gas company office, it was 1:16pm. Lunch time. The office was mostly deserted, but there was a woman who said to come back at two o'clock with the proper paper work (which I had in my bag). She wouldn't help me then.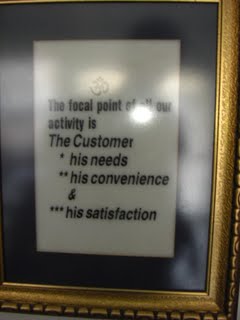 I noticed a sign in the office. I'm wondering if it's true... Making me come back in forty-five minutes does not seem like something that is for my "convenience".
I got change for the cycle driver by buying potato chips from a small snack store and went to a Tibetan restaurant to eat
momos
.
Then I returned to the office and submitted my paperwork. I was told that "between a month" someone would come to inspect my home. Then I could have a gas connection. If I pass inspection.
I should.
I think.
I submitted all the paperwork. And what about my "satisfaction"?