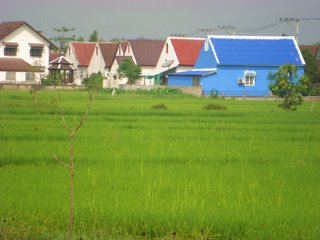 This is my farewell picture of Thailand: green rice fields and colorful housing.
I left this week after finishing all the office and training work I had to return to India.
In India today, I went out to buy some groceries. The store I purchased my bread, cheese, tomatoes and melon from does not bag their customers' items. Shoppers must bring their own bag. This is a very commendable and responsible policy. But for those, like me, who had no idea I wasn't going to get a bag to carry these things home in, the idea of buying a melon is not a good one. Once they were aware, though, that I had no bag for my purchased items, the clerks went and hunted up a box I could use to carry it. It wasn't the easiest way to get it all back to the house, but at least I didn't have too far to go.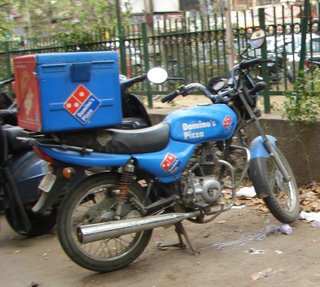 Did you ever wonder how dominoes delivers in India? By motorcycle, of course.
By the way, this is my 100
th
post, so congratulations and thanks for reading along with me this far.